Fashion
Firms such as Dolce & Gabbana are committed to relaunching this traditional technique of making use of remnants with a plus of current design
Anna Thomas
Fashion always keeps a wild card in the deck: tradition, now converted into the thimble of new luxury. Techniques once associated with the humblest classes are now the most exquisite stitch in every haute couture atelier.
This is what Domenico Dolce and Stefano Gabbana have amply demonstrated with their latest collection for this spring/summer, a tribute to their homeland, Sicily, and to a technique, patchwork, which these months is also part of other luxury collections. Thus, traditional crafts are combined with the most supportive and environmentally friendly fashion.
Originally linked to the quilt and the world of the home, this manufacturing technique was associated with the so-called quilts. "The antiquity of certain fabrics used was an essential part when giving value to a woman's trousseau. Such was its importance that even the brothers of a future wife participated in sewing. A fiancée had to offer at least 13 quilted blankets!" explains Mathilde Minne, professor of textile design at the Royal Academy of Fine Arts in Antwerp, where they graduated from Dries van Noten to Dirk Bikkembergs, among others. Two renowned creators who have also used the patchwork technique in several of their most successful collections.
Remnants of various fabrics
The English word patchwork means "work done in pieces" and it is about achieving a discontinuous appearance of colors and textures
The English word patchwork literally means "work done in pieces". This type of work consists of joining scraps of different fabrics, either sewn together or mounted on a base fabric, ultimately achieving a discontinuous and alternating appearance of both chromatic and textural.
"The origins of patchwork can also be found in traditions such as the Finnish", reveals the tandem of designers Llamazares and Delgado, who use this technique from archive fabrics that they pleat in order to personalize their garments.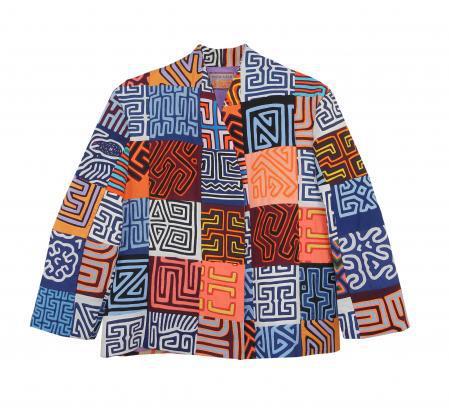 The origin of the technique
A method to take advantage of leftover fabrics
The first indications of this technique are prior to the 1st century BC, and were found in Egypt. Painted on the wall of a tomb in Thebes is a multicolored checkered ship's sail. Some historians maintain that the origin of the technique came to the West from the East as a result of the crusades to the Holy Land in the Middle Ages and, later, with the establishment of the silk route. "Be that as it may, patchwork became , for centuries, an inexpensive method of reusing leftover or used fabrics. During all that time, this work was experiencing boom times during periods of economic crisis, or decline when abundance reached most homes, until, between 1775 and 1885, English and Dutch emigrants took it to the United States. United", reveals Anna Armentano, a designer specializing in textile materials and a teacher at the fashion schools EATM in Barcelona and ESDi, in Sabadell.
The influencer and fashion communication strategist Blanca Miró has been betting for years on the so-called quilting that the North American firm Sea New York uses, for example, both in padded coats and, in spring, in jackets and shirts under the same premise.
And it is that one of the characteristics of patchwork is that, depending on the fabrics used, it is perfect for any time of the year. In fact, Dolce & Gabbana are proposing precisely this spring looks that, literally and figuratively, unite the past with the present of the technique and its signature.
Fabrics from the brand's archives are intertwined with newly acquired ones with floral and polka dot motifs and a border of appliqués, brocades and motifs generated with 3D techniques. They have also viralized the hashtag #GGSicilanpatchwork.
Trend
Dolce & Gabbana propose this spring looks that, literally and figuratively, unite the past with the present of the technique and its signature
The new technological dimension that patchwork is taking on makes it a technique adored by new talents, such as Robber Rodríguez, whose Despierta Despierta collection, presented at the Mercedes Fashion Week in Madrid in September last year, is made with all the leftover fabrics accumulated for the last four years in her studies in fashion design at the IED in Barcelona, ​​upcycling crochet bedspreads, curtains, tablecloths and sheets.
"I think that today patchwork is useful for exploiting creativity in relation to fabrics, since it is one of the techniques that allows you to create unique and exclusive outfits," this designer, who has worked together with Mary Katrantzou for Victoria's Secret firm.
"My creation process is based on textile manipulation through all the techniques that I know and the new ones that I discover, achieving panels of different fabrics that replicate what I want to tell. For example, for the 100k Windows jacket, I was inspired by leaded windows, using different colors of cotton manipulated to obtain that reflection effect of the glass. Then I joined them together with gray silk trim imitating the original lead of the works of art in the cathedrals", adds Robber Rodríguez.
My creation process is based on textile manipulation through all the techniques I know and the new ones I discover.
Robber RodríguezDesigner
At just over 20 years old, Alvaro Mars has become one of the most promising young people on the Spanish scene, achieving that his work has already paraded at the Mercedes Benz Fashion Week Russia and the fashion week of the British capital. "Patchwork seems to me to be a very intelligent and personal way of developing a garment. This way of treating fabrics provides a point of innovation and authenticity, while giving free rein to your most creative side".
"In my case -Alvaro Mars continues-, I have always used it very literally, especially in my first Teatro Paradiso collection, where it was the perfect tool to develop the whole concept: my roots. It was my way of putting together memories that became pieces of leather and other patterned materials. In the new collection, Mavra Solar, you can also see garments with patchwork made from recycled materials, from leather to upholstery, thus obtaining very visual looks".
This season, Alessandro Enriquez also presents garments with denim patchwork, which recalls the emergence of this union of fabrics during the 1960s and 1970s, especially among the communities of young people who attended the Woodstock and Summer of Love festivals in San Francisco. .
Blanca Miró, also addicted to vintage, has vintage patchwork garments in her home and wardrobe that she acquires at the Alabama Collect showroom (c/ Pallars, 141, Barcelona) by Paula Prieto, an expert in recovering pieces from other eras in flea markets around the world from Brussels, Paris, Zurich, LA, Copenhagen or Japan.
Precisely Miró is, together with María de la Orden, the founder of the firm La Veste, which collaborates with different firms, such as Mola Sasa, a firm founded by Yasmin Saber, who grew up surrounded by the cultural mix and ethnic wealth from Colombia.
What began a little over five years ago as an exclusive collaboration with the Colombian Guna Dule indigenous community around their ancient technique of hand-stitched appliqués, evolved into a comprehensive work in which six different local communities now participate, giving rise to vibrant, sophisticated and daring styles for the modern and fun woman who does not follow trends.
"Thinking about the number and geometry of parts is crucial when using this technique. Not everything is free will. The aesthetics of patchwork consists of establishing a dialogue and visual balance between the multiple aspects of the whole, that is, seeking and pursuing a harmonic effect among diversity", explains Anna Armentano.
Thinking about the number and geometry of the parts is crucial when employing this technique, not everything is free will
Anna ArmentanoDesigner and fashion teacher
This is how Gabriela Comella carries it out at the accessories level with her firm of geometric and colorful bags Gabriel for Sach and Gabriela and Karina Iskin, at the head of the jewelry brand Iskin Sisters, whose pieces are made by hand in Argentina mixing materials, always following fair trade guidelines, such as leather, acrylic and stainless steel.
Influencers such as Leandra Cohen, Caroline Daur or Courtney Torp show, on their respective Instagram accounts, the patchwork creations of the Scandinavian firm Núnoo, created in 2015 by the sisters Pia Silfen Jensen and Naja Silfen.
read also
Corner stores, the universe of elegance by Bartolomé Tous
Anna Thomas
"If you're going to San Francisco, you sure to wear some flowers in your hair" Scott McKenzie sang in 1967. A song that became a a cultural icon, just as patchwork has always been, now also a symbol of what multiculturalism means, circular fashion and, currently, the luxury of never losing the most precious traditions.
Show commentsUp to the Minute