A lady always needs to be prepared, no matter where she goes or what the occasion might be. That's why it's important to have a few essential items in your office space, so you're always ready for anything that comes your way. In this blog post, we will discuss the essential items that every lady should have. Please read on.
A Tailored Blazer
A tailored blazer is a key piece for ladies in the office. It can be dressed up or down, and it will help you look put together no matter what. A tailored blazer will also keep you warm in the cooler months and can be layered over dresses or shirts. When choosing a tailored blazer, look for one that is well-constructed and made from high-quality materials. You should also choose a style that flatters your figure and makes you feel confident.
A Versatile Dress
A versatile dress is a great option for the office. You can wear it with a blazer for a more formal look, or you can pair it with a cardigan and some cute flats for a more casual outfit. The best part about a versatile dress is that you can easily transition it from day to night. Just add some heels and some sparkly jewelry, and you're good to go!
Comfortable Shoes
Many people believe that comfort should be a top priority when choosing office attire, and there is certainly a case to be made for that. After all, you will be spending a lot of time on your feet. However, style is also important in the workplace. Making a good impression on clients and potential employers is essential, and the right pair of shoes can help you to do that. Fortunately, there are now many options available that combine style and comfort, so you can have the best of both worlds.
Tea Bags
After a long day of staring at a computer screen and tackling projects, there's nothing more refreshing than a cup of hot tea. Tea bags are an easy way to relax and de-stress after a busy day at work. Simply add a tea bag to a cup of hot water, and allow the tea to steep for 3-5 minutes. The warmth of the drink can help to soothe nerves, while the herbs in the tea can help to promote relaxation. Chamomile and lavender are two great options for promoting calmness, but there are many other varieties of tea that can also be helpful.
Some Snacks
There's nothing worse than being hungry and having nothing to eat. If you're working in an office, you never know when you're going to get hungry. That's why it's always a good idea to have a snack on hand. Choose something that is healthy and will give you the energy you need to power through your workday. options include fruits and vegetables, yogurt, whole grain bread, trail mix, or nuts. And if you have a sweet tooth, opt for dark chocolate instead of candy. By keeping a snack or two at your desk, you'll be able to stave off hunger and stay focused on your work.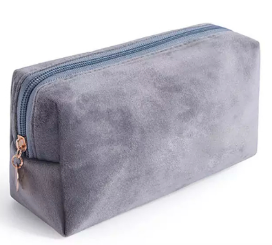 A Custom Makeup Bag
For most ladies, using custom makeup bags is a great way to store all of your essentials in one place. You can find custom bags that are specifically designed for office use. A good makeup bag should have enough room for all of your essentials, including your foundation, powder, blush, lipsticks, and eye shadows. It should also have a few pockets for holding small items like tweezers or cotton balls. A custom makeup bag is a great way to keep everything organized and in one place.
A U-Shaped Pillow
Spending a lot of time working at a desk can take a toll on your body. If you don't have the right support, you can end up with aching muscles and a stiff neck. A U-shaped pillow can help to alleviate these problems. This type of pillow offers support for your back and neck, and it can make a long day at work much more bearable. The pillow also allows you to take mini-breaks throughout the day by reclining back and taking a quick nap. As a result, you'll be able to stay refreshed and focused on your work.
These are just a few of the essential items that every lady should have in her office. With these items, you will be able to deal with any occasion and feel your best! Thanks for reading!