Continuing with its firm commitment to the Chinese market, according to multiple reports and analysts, the call to surpass the United States as the main market for sales of this category of products, more than 200 brands specialized in the luxury sector will participate in a new edition of the Alibaba's "11.11 Global Shopping Festival" shopping festival. It is considered the most important shopping campaign of the whole year in China, similar to what discount days such as Amazon's Black Friday, or the more traditional Christmas and Sales campaigns can represent in other countries.
After the first pre-sale sessions, which have been going on since mid-October, it will be tomorrow, the 11th of 11, when the main day of this consumerist festival begins, in which Alibaba hopes that more than 900 million will participate of buyers. Some Chinese consumers who will not hesitate to access the different portals and platforms that make up their structures, to benefit from the more than 14 million offers that will be launched in the embrace of this year's edition of the Alibaba 11 on 11 festival, previously known as the "Singles day" or "single day". Festivities in which this year, and already setting a new record, 290,000 companies and merchants will participate, in an edition for which the emphasis is on defending values ​​such as inclusion and a greater commitment to the environment.
"This year's festival marks a new chapter for 11.11", Chris Tung, marketing director of Alibaba Group, began to explain several weeks ago, coinciding with the start of the first pre-sale days. "We must harness the power of 11/11 to foster sustainable development and to promote inclusion among consumers, merchants and our ecosystem partners." Principles that, going beyond their mere defense, the company has also decided to implement, with measures such as reducing carbon emissions related to orders by -30% compared to the previous year.
A more sustainable edition
Continuing with this defense for more sustainable production models, on this 11.11 Alibaba, among other actions, will be in charge of highlighting all those brands and products of an ecological nature, also offering a series of "ecological purchase vouchers" to encourage purchase of this category of products among consumers. Those who, for each ecological purchase they carry out, will also be able to obtain more "energy points" in their Alipay Ant Forest account. The disruptive initiative developed by Alipay, Alibaba's payment platform, from which this series of virtual points are translated into real trees that contribute to the reforestation of the most arid regions of the Asian giant.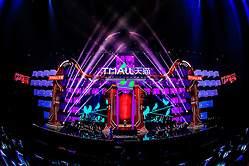 "Users earn 'energy points' in Alipay Ant Forest for each ecological purchase they make. The electronic wallet that Alipay is responsible for translating into real trees, which it plants in the most arid regions of China and which need to be reforested", they explain from Alibaba. And it is that "more than simple sources of clean air", they emphasize, "these trees will protect the soil from erosion, and will prevent agricultural land from becoming desert".
With more than 200 luxury firms, offering more than products
As for the large number of luxury brands, more than 200, that will participate in this year's edition, with the addition of firms such as Hermès or Yves Saint Laurent, who will participate for the first time in the festival, it was Janet Wang, director of the luxury division of the Alibaba Group who was in charge of highlighting the strong advantages offered by the company's ecosystem of tools as an important gateway for luxury firms to Chinese consumers. A public that, on the other hand, would be experiencing an evolution of its tastes, showing an increasingly keen inclination towards natural signatures from China.
"Consumers no longer think in terms of a break between the worlds of the physical and the digital," and "they want a well-rounded, unified experience from brands, whether they are shopping online or online. offline," says Wang, former director of Zara's online area for the Asia-Pacific region. "Consumers consume physical products, but now also virtual services and experiences", which is why "how to digitize all those experiences and make them available to customers, is something that we are very actively engaged in right now". For which they have been promoting initiatives, such as those that have allowed brands such as Gucci or Margiela to begin offering through the Tmall Luxury Pavilion advantages similar to those offered in their physical stores, such as direct contact with a sales assistant or the access to certain exclusive after-sales services.
"What really sets Tmall Luxury Pavilion apart from other platforms is its ability to go beyond just selling products and providing item information," said Judy Chang, Coach's vice president of marketing for the Chinese market. "It offers a complete brand experience," he underlines, in an assessment completed by Wang, for whom it is clear that "today's consumers are not satisfied with two-dimensional images and texts," but instead "want to use 3D technology to see the details and textures of the product from different angles", or "using AR to try on watches, shoes and jewelry". "These experiences help reduce the distance between luxury brands and the consumer", and from a wide range of them they will be precisely the ones that users who participate tomorrow in this 11.11 festival will be able to enjoy. A day that will be joined by live broadcasts by top executives from firms such as Bally, while others such as Margiela will invite users to try on some of their products virtually through augmented reality technology.
Changes in Chinese consumer trends
As for the changes that Chinese consumers are experiencing in their tastes, Wang herself highlights both the greater immediacy that they are showing in the purchasing processes, as well as their greater taste for personalization and for local firms originating in China. Which could begin to eat a bigger piece of the pie, as, as the strategic consultancy Bain & Co. points out, China ends up consolidating itself as the largest market for luxury goods. Something that they estimate will happen by the year 2025.
"They want what they want right away, and they want personalization," Wang tries to sum up. In addition, "Chinese consumers are becoming more sophisticated and their tastes are becoming more diverse," and in this sense "it has been exciting to see more collaborations creative" between firms "from 'East and West'", such as those "carried out on our platform". This being "a trend that we hope will continue to develop."